Metric.ai maps projects and employees from Harvest to augment analytics data. Time logs, as well as tasks, expenses, and invoices, are pulled from Harvest multiple times per day.

How to Connect
Sign in to Harvest.
Sign in to Metric.ai.
Select INTEGRATIONS from the left menu.
Click the +NEW INTEGRATION button.
Select Harvest from the list of integrations.

Allow Metric.ai to access your data in Harvest.

Configure Settings
Go to the Configure section.
Select Currency used in the Harvest account.
Select the Harvest account to import data.
Select the Harvest Forecast account to import data (optional).
Enable Import Group Assignments setting to import Clients and Roles from Harvest (optional).
Enable Import Projects Billing Settings and Employees Cost Rates setting to import project billing settings and employees' cost rates from Harvest (optional).
Enable Import Invoices setting to import invoices from Harvest (optional).
Save the configuration.
Click Force Update to run import with the new configuration.

Set Mapping
Set 1:1 mapping between Harvest and Metric.ai for:
Employees
Projects
Clients
Roles
Go to one of these sections.
Set the mapping.
Save.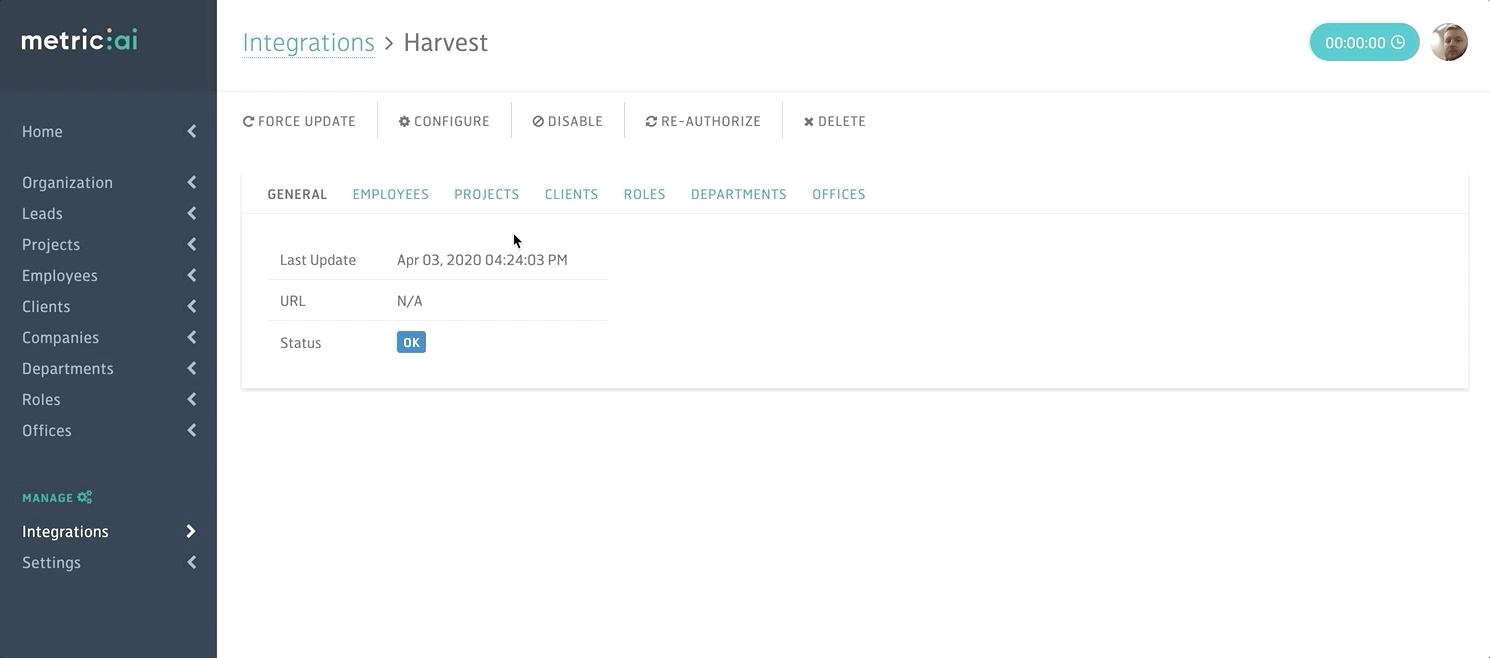 Import Data from Harvest
Periodicity
Metric runs data import from Harvest every 4 hours.
You can manually run the import by clicking the Force Update button.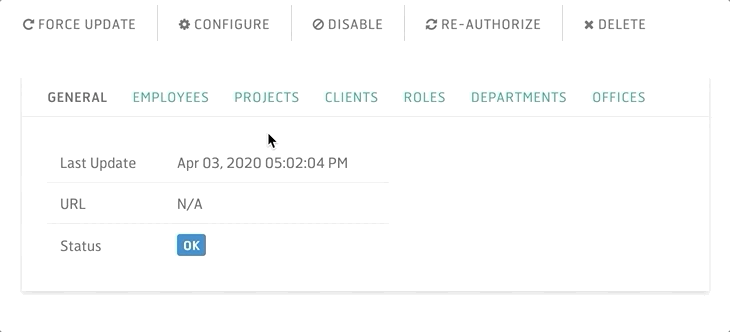 Import can take from a couple of minutes to about an hour, depending on the number of records.
Last Update displays date and time when the last import was finished. Refresh the page to see updated data in Metric.

Imported Data
Metric imports data from Harvest for mapped projects.
Note: Data is not imported for Closed, Cancelled projects in Metric or Archived projects in Harvest.
Employees


Name
Email
Employees Cost Rates for mapped employees (if the Employees Cost Rates setting is enabled)
Roles (if the Import Group Assignments is enabled)

Projects

Code
Name
Budget/Billing settings (if the Import Projects Billing Settings setting is enabled)
Description

Tasks

Name
Status
Billing settings (if the Import Projects Billing Settings and Employees Cost Rates setting is enabled)

Time Logs


Employee
Project
Task
Date
Logged Time
Comment

Expenses

Project
Expense
Date
Description
Amount
Billable

Invoices (if the Import Invoices setting is enabled)


Invoice Number
Issue Date
Due Date
Client (if mapped in Metric)
Project
Currency
Line Items (Description, Amount)
Total Amount

Planning (Imports Allocations from Harvest Forecast if set up)
Note: Allocations 60 days ago and previously are not updated by the import

Project
Employee
Hours
Start/End Dates